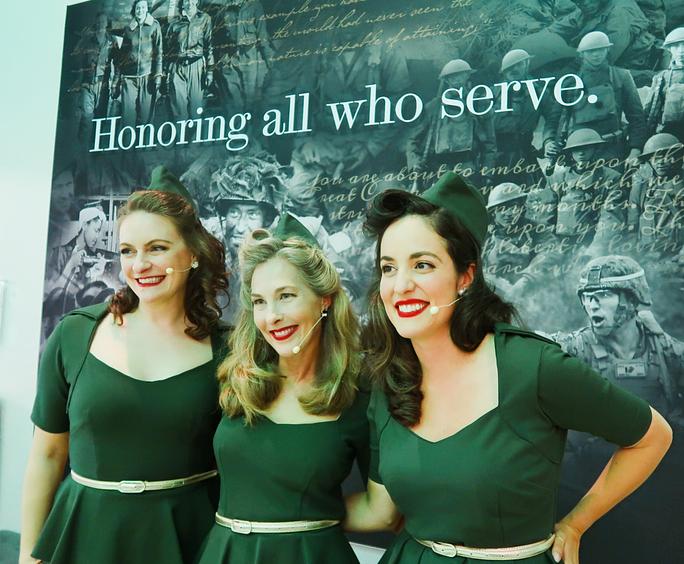 VICTORY DOLLS PERFORMANCE TO BENEFIT HONOR FLIGHT
BY: SUE WADE | Tuesday, March 15, 2022
It could have been a job for The Andrews Sisters.
World War II's syncopated, sassy trio sang and swung their way into the hearts of a war-weary nation in films, on the radio, in canteens and in USO shows touring dangerous overseas war zones. Their upbeat act lifted troops' spirits with comedy and harmony, spreading the message that America was strong, proud and brave. Patty, Maxene and Laverne would have jumped at the chance to lift today's veterans' spirits on the wings of an Honor Flight trip to the memorials of Washington, D.C.
Luckily, a trio much like The Andrews Sisters has accepted that mission, partnering with veterans' groups and Honor Flight hubs throughout the state to give back to those who've served.
The Victory Dolls, a 12-woman troupe based in South Florida, brings back all the verve of the famous sister act and spotlights some of the east coast's top Carbonell Award-winning actresses. They combine a vintage look and choreography with swinging original arrangements by British-born pianist, arranger and conductor Phil Hinton.
"The cast for Victory Dolls is absolutely amazing," said their executive producer, Kevin Barrett, the 30-year-veteran theater arts executive who launched the group on the brink of the pandemic and saw them back onstage in summer 2020. "They're the best singer/actresses on the east side of Florida."
As their website puts it, "It's an all-American show when The Victory Dolls hit the stage, complete with a modern-day twist on your favorite songs that dazzles in three-part harmony."
Like the strong women of World War II, the Dolls believe that when smart, talented women work together for the greater good, nothing can stop them. Through music and storytelling, they seek to honor all veterans by keeping the era's music alive. The Gulf Theater audience will hear a fast-paced 21-song concert of favorites like "Boogie Woogie Bugle Boy" and "White Cliffs of Dover," with banter and narrated background for each song, projected World War II videos and costume changes that tip the hat to the Women's Army Corps and Rosie the Riveter.
At every performance, veterans in the crowd are asked to stand and be recognized.
"That's always quite a moment," said Barrett. "Everyone applauds, and for a lot of these guys, that might be the last time they get recognized. Of course, that's what Honor Flight is all about, too. Doing that before it's too late."
It's all for the benefit of the nonprofit Southwest Florida Honor Flight Hub, which covers six counties. The Honor Flight Network is a national 501(c)(3) network of independent hubs working together to honor veterans, from World War II through current conflicts, with all-expense-paid trips to the war memorials of Washington, D.C., trips many veterans might not otherwise be able to take.
After COVID grounded them, local Honor Flights are again taking to the skies. Southwest Florida Honor Flight's May 14 trip will be the first in nearly three years for the local Hub, which sponsors the Gulf Theater benefit.
Its president, Meredith Zinn, said, "Some of our participants — veterans and their volunteer guardians—have since moved away or passed away, or are unable to go because of illness, but we're flying with a full plane this year."
Don Hubbard, a WWII veteran, described his Honor Flight experience as life changing.
"It was almost mystical to see these diverse old men and women slowly change," he recalled. "For the first time in years many were back in a known military environment again, swapping tales and laughs with other vets who had shared their own experiences."
"It's hugely emotional," said Zinn. "I've seen veterans with tears streaming down their face."